By Marc Mason, a 2012–13 Imagining America Engagement Scholar. The Imagining America Engagement Scholars program supports undergraduate students after graduation to stay in Central New York and develop careers as civic professionals. Imagining America helps Scholars find jobs in the region and facilitates monthly seminars about the ethics of civic work. Additionally, Syracuse University's deans provide tuition scholarships for the Scholars to take graduate-level courses. In its fifth year, the program has engaged 75 students.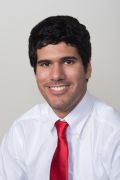 My past year as an Imagining America Engagement Scholar has been an amazing experience. Following graduation, I was provided with the unique opportunity to continue my studies at Syracuse University by enrolling in graduate level courses, develop my professional experience by working with the Near East Foundation (NEF), and expand my knowledge of civic engagement by participating in group discussions with my fellow Engagement Scholars.
I always planned on matriculating into the Maxwell School of Citizenship and Public Affair's MPA/MAIR joint degree program. The 24-credit tuition scholarship allows me to get the head start that I need to complete the program in two years and maintain a flexible schedule so that I can participate in extracurricular activities within a leadership capacity. Specifically, I completed coursework towards the Certificate of Advanced Study in Conflict Resolution. Through this program, I learned various communication theories and about interest-based negotiation, which will prove itself invaluable in both my professional and social spheres.
My work with NEF has provided me with professional experience in the field of international development. NEF is the United States oldest non-sectarian nongovernmental organization that helps build more sustainable, prosperous, and inclusive communities in the Middle East and North Africa through education, community organizing, and economic development. More information about the organization can be found here: http://www.neareast.org. As an Assistant Program Officer with the Near East Foundation, I had the following primary responsibilities:
Communications: writing press releases, web site updates, news stories; editing photos; and social media
Proposal development: helping research and write proposals for a variety of donors (USAID, UN agencies, foundation donors, etc.); and working closely with teams in the field
Program Management: working with field teams to write/edit reports and project plans; providing technical advice/guidance to field teams for project implementation; and monitoring and evaluating projects
Fund Development: maintaining donor databases and researching new grant opportunities
Furthermore, I was able to work on projects that ranged from promoting reconciliation and collaboration between Israelis and Palestinians through the olive oil industry to improving resource management of Malian agriculture through the harnessing of non-conventional water sources.
Lastly, my participation in the Engagement Scholars group meetings broadened my understanding of how my work fits into the concept of "engaged scholarship." Through our group-member-led facilitations and discussions, I learned many things that challenged my preconceived notions about what it means to serve a community, whether it be domestic or abroad. I strongly recommend this program for any student who wants to expand and build upon their knowledge through practice and public service.