Thursday, March 27, 2014   By Kelly Homan Rodoski
Fletchall Puts Learning into Practice on Connective Corridor

The upcoming April Dear Syracuse billboard, featuring a quote from Michael Rotella '11.
Graduate student Quinton Fletchall loves narrative. He particularly loves the narrative of urban planning and social design. He sees cities as stories that people tell through the lens of hope, fear and dreams for the future. He also sees those stories as the foundation for how change happens over time, based on what people believe, design and build. He collects stories that reflect how people feel about the places they live. Now, he's writing his own Syracuse stories, as he's helping design the city he's come to call home.
Since coming to SU in 2008 from the Midwest, Fletchall has earned a bachelor's degree in industrial design through the College of Visual and Performing Arts (2013) and started a graduate degree program in communication and rhetorical studies. As an Imagining America Engagement Scholar in SU's Office of Community Engagement and Economic Development, he has used his expertise in design and love of working with people to launch several unique and popular civic engagement projects along the Connective Corridor, including a 'Cusescapes photography contest and "#Dear Syracuse, With Love" billboard, postcard and social media series. Those projects have gained notice as some of Syracuse's first crowd-sourced public art projects.
Fletchall has made the Connective Corridor bus easier and more enjoyable for students by designing a user guide, maps and on-board wayfinding signage, as well as rotating gallery shows on buses. He's created wayfinding systems to help students explore downtown and plotted out historical walking and urban adventure trails to introduce SU students to the city he loves.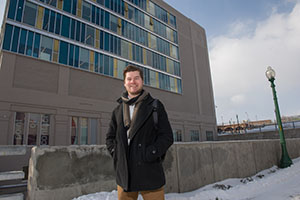 Quinton Fletchall
His latest project will be unveiled in early April, "In Syracuse …," an interactive window art project at the Landmark Theater along Jefferson Street that invites pedestrians to share personal experiences about what they enjoy and what they'd like to see change in the city. An enjoyable part of his role as an Engagement Scholar has been working with area businesses and nonprofits as part of the Connective Corridor façade program, which has reshaped 56 downtown properties along the streetscape. These public art projects have been funded through an Empire State Development grant through the Connective Corridor.
Fletchall's next community-based project will pay homage to Syracuse's rich history and invite ideas for its future. Under the guidance of Connective Corridor Director Linda Dickerson Hartsock, Fletchall recently wrote a competitive grant that was chosen for funding by the Erie Canalway National Heritage Corridor. The $7,000 grant was given to create an interactive public art mural highlighting the Erie Canal and other civic projects that showcase innovation, civic infrastructure and creative placemaking in Syracuse. The Erie Canal Museum and the City of Syracuse are project collaborators, along with the Connective Corridor.
"It is exceptionally gratifying to help Syracuse University students to achieve early success in their careers with creative projects like this one," says Marilyn Higgins, SU's vice president of community engagement and economic development and a commissioner of the Erie Canalway National Heritage Corridor. "Quinton's project is an example of how the Connective Corridor serves as a platform for student engagement that can impact local community culture, and his own career, possibly in a very major way."
The mural, called "Let Us Continue," will be a panel affixed to the wall along the portion of the Creekwalk that runs along on the east side of the Nancy Cantor Warehouse, located at the corner of Fayette and West streets. Fletchall draws the theme from President Lyndon B. Johnson's address to the nation following the assassination of President John F. Kennedy in 1963, when Johnson paid respect to the fallen leader by recognizing the work of his presidency, and encouraged the nation into a group effort to continue what Kennedy had started.
"The City of Syracuse is ongoing; its future is not set in stone," Fletchall says. "Through this mural, I want to encourage people to understand its history and help envision its future."
Fletchall will construct the 65-foot mural in two parts. One part will include a graphic representation of the city's history, including the Erie Canal and other civic projects, such as the construction of Route 81 (which is timely, given the current discussions on the future of the interstate). Fletchall is currently combing through the archives of the Erie Canal Museum, working with museum curator Daniel Ward, as well as other historical resources to construct this portion of the mural.
The second part of the mural will be inspired by interactive projects in public spaces by artist Candy Chang, who encourages people to share their aspirations through public art (Syracuse's version of her "Before I Die" wall is located on the side of the former Gear Factory at 200 S. Geddes St.). On this portion of the "Let Us Continue" mural, members of the community will be asked to share their vision for the city. Fletchall hopes that through this a collective public dialogue will emerge, and that voices will come from every population for which Syracuse is a place to live, work or play. "Public art has a very democratic side—if you can get to it, you can contribute to it," he says.
Fletchall expects to complete the mural in July.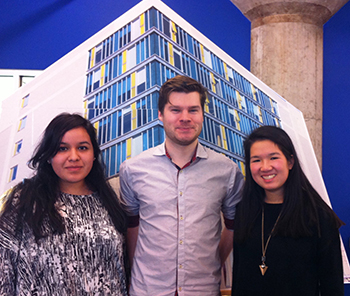 Fletchall with second-year industrial design students Karina Campos and Tiffany Soohoo, winners of a recent Connective Corridor design competition for interactive public art.
The field of design has interested Fletchall since he was in school in his hometown of Oskaloosa, Iowa. He worked as a draftsman at a local architectural firm while in high school, completing architectural drawings based on the vision of the lead architect—including houses, offices, churches and car dealerships.
While he was drawn to the process of design, Fletchall says architecture wasn't something that really grabbed him. He had no idea what he wanted to pursue until receiving a call from the College Board, a not-for-profit organization that prepares students for college success. One of the majors the counselor suggested was industrial design.
When Fletchall researched the major, "it was like the heavens opened up and a light bulb came on," he says. He came to Syracuse for the first time in the late summer of 2008 to begin VPA's five-year industrial design program. He went on to become the Syracuse student chapter president of the Industrial Designers Society of America.
As someone with interest and expertise in a wide, varied range of fields, Fletchall particularly enjoys two things—working with people and solving problems. As he continued through his course of study in industrial design, he came to a fork in the road in November 2011, after witnessing the mayhem of "Black Friday," the busiest shopping day of the year.
"It was very unsettling to me. I love design and believe it is an amazing, world-creating tool; I just didn't know how I could continue to contribute to the commercial aspect of design," he says.
He learned more about and was intrigued by social design, particularly in design that improves a community and the well-being of its residents. For him, it was a perfect fit—design that is aimed at a bottom line of people, not profit. His work with Hartsock and the Connective Corridor has given him the opportunity to develop and launch community engagement projects that bring different groups together, and he has been part of a movement to change the way the younger generation sees the city. He's worked with such groups as Syracuse Guru, No ExcusesSYR, Believe in Syracuse, 40 Below and the Syracuse New Times social media group to connect young professionals with SU students.
Fletchall says there are exciting things going on in the city, such as reinvestment in buildings and neighborhoods and attempts to create larger entertainment and cultural attractions. "I feel there is a new generation in Syracuse that is not impeded by the history of the city," he said "They know what type of city they want to live in and are pushing for those changes."
He also sees the vibrancy of the city as something that adds to the education that SU students receive. "There are things going on in the city to complement the education of students. Personally, I have received a more holistic education by combining theory and praxis by being able to explore the realm of social design I am interested in," he says. "Reading about it is one thing, but I learn so much more being able to practice it."
"Quinton is very adept at combining pedagogy with practical applications, particularly in projects involving diverse voices," notes Denise Heckman, associate professor of industrial and interaction design in VPA.  "He excelled at that as a student and now is bringing that skill set to the public realm. That's important because learning in the abstract doesn't translate well in the real world. The opportunity to do projects like these that are grounded in research and conceptual knowledge help give students something that even the very best faculty member can't offer in the classroom."
"We have been so fortunate to have Quinton working with us as an Engagement Scholar," says Hartsock. "He is a great strategic thinker who puts critical thinking to work in creative ways that build on his academic work in urban planning and social design. This is exactly what we are hoping to accomplish engaging students with the corridor—translating research and conceptual thinking  into practical projects that benefit downtown and also create a wonderful work portfolio as part of their student experience."
Fletchall is on track to earn his master's degree in communication and rhetorical studies from VPA in May 2015. He is not sure where the road following graduation will take him. He does know one thing though—he will be penning a love letter to Syracuse.
"I don't know what will be next for me, but Syracuse will always be a part of me," he says. "Syracuse University gave me an education, and Syracuse gave me a community to make home and a chance to be part of making real change."
See more news stories about Quinton's work.
Syracuse New Times – http://www.syracusenewtimes.com/dear-syracuse-love/
Time Warner Cable News – http://centralny.twcnews.com/content/675704/new-billboard-highlights-why-people-love-syracuse/